Decktet card backs
The first copies of the Decktet, which I printed for myself, had coloured card sleeves or plain cardstock on the back. Later, I designed card backs.
Note that these aren't all freely available, and they aren't offered under the same terms as the Decktet itself. People who've printed their own copies have had to designed some nice card back, in case you want to print a deck but don't want to design a back yourself.
The moon back: When I first had decks professionally printed, this is the card back I designed. It made a brief return with the first print-on-demand decks.
The firmament back: I designed this for the second wave of decks. Lots of the line work is from a 19th-century illustration, which I touched up and coloured.
After a few years, the original illustration got to be better known. It showed up on websites, as a book cover, and enough other places that lots of people recognized it. Instead of being curious and a bit uncanny, the card back became just a version of the image that lots was showing up all over the place. So, with the release of the capital deck, I stopped using the firmament back.
The archer back: I created this as an alternative to firmament when I was having decks printed and selling them myself.
Although it starts out looking good, the dark edges do not wear well. So I stopped offering the archer back when I stopped selling decks myself.
The lattice back: This provides a non-representational alternative to firmament, for print-on-demand decks. It was never a big seller, and I stopped offering it so as to make the offerings Decktets less cluttered.
The filigree back: When I reformated the print&play images for an internet printing service, I needed to upload a card back along with the faces. This is what I put together. Again, I've taken line work from 19th-c. illustration.
Because someone requested it, I also made the filigree deck available print-on-demand.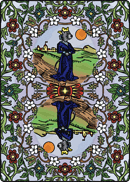 The panther back: This was designed for the Deluxe Decktet sets which were produced by Blue Panther games.
The pachyderm back: When I made the first Mini Decktet, I needed a card back in a smaller size. This is a tiled illustration from the Decktet Book.
The questing back: I designed this for the capital double decks. It is based, in part, on an illustration by Aubrey Beardsley.
The card backs are ©2008-2018 P.D. Magnus. All rights reserved for all except the filigree back, which is offered under the same Creative Commons BY-NC-SA license as the print&play version of the Decktet.